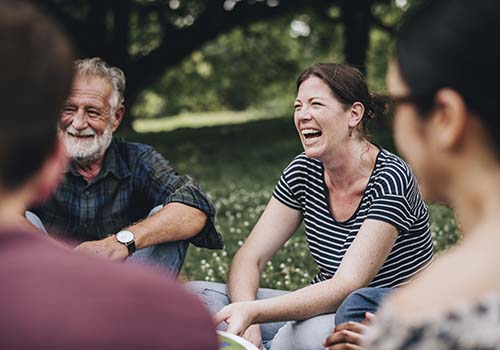 Extended care at The Arbor is broken down into three distinct phases over the course of the recommended 90-day program: Orientation, Preparation and Integration. The phases are based on steps 1-4, 5-8 and 9-12 of the 12 Steps, respectively, and are designed to progressively introduce clients to more self-accountability, responsibility and independence. Read more about each phase of our extended care addiction treatment program:
Phase 1 focuses on introducing the client to their new environment and setting the 12 steps in motion. Clients will join their team — a dedicated group for 12-step work — and will obtain a 12-step sponsor.
Phase 2 introduces clients to more life skills and reintroduces some skills covered in residential treatment. At this time, clients should be progressing through the 12 steps and be able to provide peer support for new housemates beginning Phase 1.
Phase 3 marks the final four of the 12 steps. Clients will plan their discharge from Extended Care, will complete intensive outpatient programming and will mentor housemates in Phases 1 and 2. Clients in this phase also enjoy more independence, including additional offsite activities.
Laying the Groundwork for Lifelong Recovery
Treating addiction is not like treating other kinds of illness. There is no medicine that can heal all the symptoms and no course of care that can guarantee that a person will be cured for good. As anyone who has been through treatment for drug or alcohol addiction can attest, recovery is a lifelong process. While the phrase "recovery is a journey" may seem cliche, it rings true for those who have experienced the many ups and downs of achieving and maintaining sobriety.
At The Arbor Behavioral Healthcare, we don't let these challenges prevent us from pursuing a healthy, sober lifestyle. In fact, our outlook is precisely the opposite: we know that recovery won't always be easy, but we also know that our continuum of care provides the added support that our clients and their families need when they are most vulnerable. Our extended care treatment program is one of the levels of care we offer to safely guide our clients as they navigate their life in recovery.
Extended Care Addiction Treatment: Program Details
Extended care at The Arbor includes gender-specific sober housing in Austin, accompanied by recovery treatment on an intensive outpatient schedule. Extended Care clients will attend regular clinical sessions with other Extended Care and Intensive Outpatient clients. These sessions, held at our nearby outpatient facility, will include both men and women to reintroduce co-educational trust and bonds.
Adult (18+) program
90-day average length of stay, with the option to transition to sober living following program completion
Daily house community meeting
Daily breakfast and one dinner per week included
Transportation included
Ten weekly hours of clinical services, including individual sessions, group sessions, and psycho-education
12-step immersion and completion
Monthly equine-assisted therapy
Intensive outpatient (IOP) options
Recovery advocacy services
24-hour supervision
Random toxicology testing
Daily prayer and meditation groups
Nightly evening review groups
Medication management
Full-time recovery manager
Extended care is designed to provide clients with a bridge between residential treatment and traditional sober living. This transition can be jarring as individuals in recovery adjust to new levels of independence. This program is also ideal for those who have had a period of sobriety but have briefly or mildly relapsed. It provides a budget-friendly sober environment and structured care on a less intensive schedule than full-time residential treatment.
Extended Care & The 12 Steps
Our extended care treatment program at The Arbor includes a full 12-step completion process, access to excellent therapeutic resources, and a specific focus on practical and therapeutic life skills. The Arbor's addiction recovery programs, including extended care, are located near Austin, Texas, and have easy access to recovery meetings and employment. Contact us at 844.413.2690 to learn more about our extended care addiction treatment program.